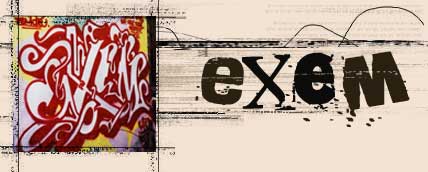 by THOMAS STØNJUM © 01.03.00

Do you have any favorite places to paint?
I like painting places where people leave me alone and let me paint whatever I want. Copenhagen is a great place; lots of places to paint, nice people there and they have more freedom.
In Fredrikstad I find alot of patience with myself, and its probably there Ive done the pieces that Im the most satisfied with.

How about battling, is it important for you?
It was very important for me before, but not anymore. Ive understood that Im not the best in the world. And in the end of the day its not really possible to say who's style is the best - its just different types of style anyway.

Your style is pretty unique. How have you developed it?
I learned the styles from the 80's until now in different epochs and have been thinking alot on my own. Ive been humble and listend to people when they had something smart to tell.


Do you have a bond to viking and celtic ornaments/symbols except through graffiti?
No not anymore. There was a time in my life that I was very fascinated of dragons and ornaments. But now I'm pretty tired of celtic stuff. Don't get me wrong; I have very much respect for those who have managed to build stave churches and viking boats - it's beautiful...but Im just tired of it.


You've painted a bit in Germany. Where've you been and what do you think about the scene in other cities compared to home?
Ive painted in Berlin, Køln, Copenhagen, Odense, Næstved, Malmø and Stockholm. When it comes to the scenes and unity I find us Norwegians real bad to cooperate and it leads to alot of discord. In Norway I miss more unity and posetive people.

Oslo 1999


Anything you want to tell the world about yourself?
No, but I think the world has alot to tell me.

About memories...do you have one that you remember specially well?
Usually I start to yell at people who try to tell me that what I do is wrong. Unfortunatly everytime the police has showed up Ive not been able to get away. But one memory that sits very deep inside me is the the last time I got busted for painting graffiti. I was in court and a policeman that was testifying against me made false statement, since he was another place then me when I was busted. Everything he said and meant was based on what he thought was expected from him, and was therefore not the truth. I was judged on false statement, and this has lead to that Ive lost trust and hope in that we can do anything with the society we live in.
Ive seen policemen beating up kids and lying me straight up to my face. This is people with bad life morality and it scares me that Norway has a cop state.
Do you have any tips to the beginners?
The way you learn when youre a beginner is to have alot of respect for those who are better then yourself. Start with doing block letters so you understand how letters are buildt. Last but not least be humble and listen to what people have to say!
How do you see your future in 5 years from now?
I'll probably be painting every weekend and tattooing at daytime. The most important for me is being able to paint graffiti and have a normal good life in the future. In 5 - 10 years from now I hopefully live in another country where freedom and joy is more important then God, double morality and narrow minds!